Tuesdays will be the days I give my 2 cents on a topic that's in the news.
Let's start by talking about social media and activism/awareness.  Many in the Down syndrome community have condemned the use of social media to raise awareness.  Some restrict their criticism to "cute photos" and "happy stories," but still, in my mind at least, the criticism is a way of silencing voices that are trying to do something good in the only way they know how.  I find that discriminatory.
Today I looked at what's trending to find a topic for discussion.  Ann Coulter usually doesn't register on my radar…. but this time I was curious.
This headline was what caught my attention.  I'm thinking, what could she possibly have to make fun of?  As far as I know, there's nothing funny about 300 girls being kidnapped.  So I looked into it.  Apparently, she's actually attempting to make fun of the fact that people, like Michelle Obama used social media to raise awareness about the situation.
Oh, okay, so she's not completely horrible.  Or is she?   The link trail led me to something even more shocking for me (politicians and political pundits fighting over stuff isn't really shocking is it?)  What I found was George Will taking a similar stance.
"It's an exercise in self-esteem. I do not know how adults stand there, facing a camera and say, 'Bring back our girls.'" Will said on "Fox News Sunday." "Are these barbarians in the wilds of Nigeria supposed to check their Twitter accounts and say, 'Oh, Michelle Obama's very cross with us, we better change our behavior?'"
To most people, Mr. Will is just another conservative columnist who appears to be jumping on the bandwagon of finding any way to shame "liberals."  To me, he's much more than that.  I was first introduced to him by fellow blogger "Little Bird's Dad."
George Will is a Pulitzer Prize winning journalist; in 1986, the Wall Street Journal called him "perhaps the most powerful journalist in America."
During the #JusticeForEthan campaign (oops! There's another one of those useless ineffective important hashtags) LBD suggested that we ask Mr. Will to share his considerable media influence to raise awareness for our cause.   Hmm…. Guessing this explains why he didn't respond.
I really thought he would since, after all, he's "one of us."  In addition to being a "conservative columnist," he's also a parent of an adult who has Down syndrome.
So, this all comes back to whether someone believes that social media can make a difference.   My question to Mr. Will would be – why is that when ordinary people take to social media to have their voice heard it's "ridiculous" and "self-serving."  You do it every day in traditional media.  So the First Lady joined in – so did LOTS of other people.  Does that make it useless?
Mr. Will also talked about power.  That's a politically charged word.  The internet and social media has given more people a little more of it.  Those who already experience it don't want the "little people" to have that much – it would put them out of a job.
Does this explain why people are seemingly offended by the #BringBackOurGirls campaign?  It seems to me it's part of it.  But I still wonder about why people really believe that raising awareness, in whatever form it takes on social media, can be a bad thing.  Everyone is different and their ability to tap into the available power pool is affected by their own drive, time, experience, ability, access, and a host of other things.
This piece in a Long Island publication may represent part of the bigger issue.
Sayville junior Meg LaBelle and her best friend, Sayville lacrosse midfielder Julianne Johnston on Friday night after Farmingdale beat Sayville 8-6. Farmingdale hosted a doubleheader to raise awareness and money for Down Syndrome research. Sayville substituted LaBelle into the game with 34 seconds left and the Farmingdale girls let her score a goal. (Credit: Stephen Haynes)
I personally love the photo and the fact that Meghan was so happy.  What worries me is that it was all staged in order to raise money for Down syndrome research.  It's a perfect example of why people criticize some efforts at awareness.  Yes we want our children to be included, but we don't want to have to create false images/events in order to force it to happen.
So, here's my 2 cents:  social media is a tool.  Like any tool, how effective it is will be based on the skill of the user.  No one is born knowing how to get the most out of any tool.  We all have to learn the best method for ourselves, based on our own ability.  If a hashtag on Twitter brings an issue to more people's attention – that can be considered an "effect on the real world."  If a picture and article brings attention to the fact that inclusion still is not happening organically, that can also be considered progress.  It depends on how you look at it.
We all do the best we can with what we know.
Advocacy and activism are living things.  What works is changing by the minute.  I only wish that everyone who has good intentions would get the support they are looking for.  Judgement is not helpful.  Trying to make someone feel shame and guilt for doing something good is not helpful.    If we continue to meet every attempt at positive change with negativity, we risk a backlash similar to the one Ann Coulter experienced…..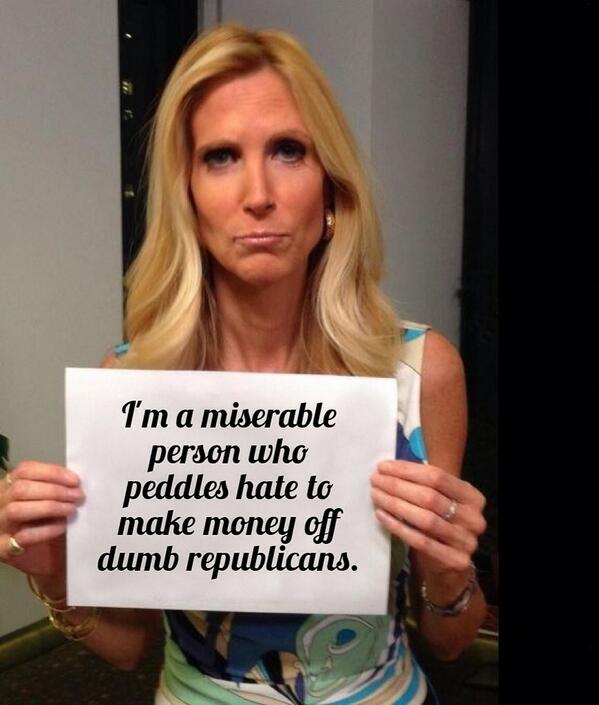 Now it's your turn.  Give me your 2 cents.  Do you think Ann and George are right?  Is it useless to use a hashtag campaign to raise awareness?  What about "happy stories" and examples of inclusion that appear in mainstream media?
Let's talk